Precast Concrete Septic Tanks
Turley's septic tanks are built to last.  Unlike plastic and fibreglass alternatives, our precast concrete tanks are strong, durable and watertight. Furthermore, due to the nature of precast concrete, our tanks gradually strengthen over time.
With Turleys precast septic tanks you get:
A strong, durable and watertight septic tank
An easy to install septic tank
The Ability to utilise large volume capacities
Conforms to the current Standards of Environmental Practice
A Great Alternative to Fibreglass Septic Tanks
The Turley Septic Tank is made up of high strength 45 Newton concrete, and weighing in at 3.5 tonnes, is manufactured and supplied from Turley's state of the art facility in Newry Co. Down. Whilst you can be reassured as to the robustness and effectiveness of our tanks, you don't need to worry about installation. Turley Bros will make the installation process easy and will install on site.
EPA Code of Practice & Certification
Turley Bros are proud to announce that our Tank conforms to the current Standards of Environmental Practice as per the EPA Code of Practice and has achieved European EN 12566-1 certification.
Meeting all the definitions and mandatory standards of a septic tank in the European Union, our EN12566-1 certified Turley septic tank has a capacity of 3,400 litres. That's enough to solve the sewage disposal problem of an eight person home.
Perfect Septic Tank Solution:
The high strength concrete tank design makes it free from seepage, leaking, and intrusion risks commonly caused by roots from the vegetation in the vicinity and the acidity of the sewage.
The Turley Septic Tank, with its two chamber design and access covers, ten millimetre steel loops for handling, ventilation access, bitumen seal and pipe seal facilities at the inlet and outlet ends, is an ideal choice for not only new installations, but also is the tank of choice for replacement or upgrading of an existing tank.
Download Brochure For Precast Concrete Septic Tanks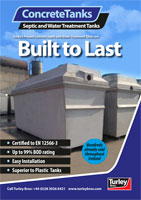 Technical Specification
Certified to EN12566-1
3400 Litre Capacity
45 Newtown Concrete
4.7 Tonnes in Weight
Can service up to 8 PE
Length 3500mm
Width 1300mm
Height 1700mm (including lid)
Inlet 1700mm (from bottom of tank)