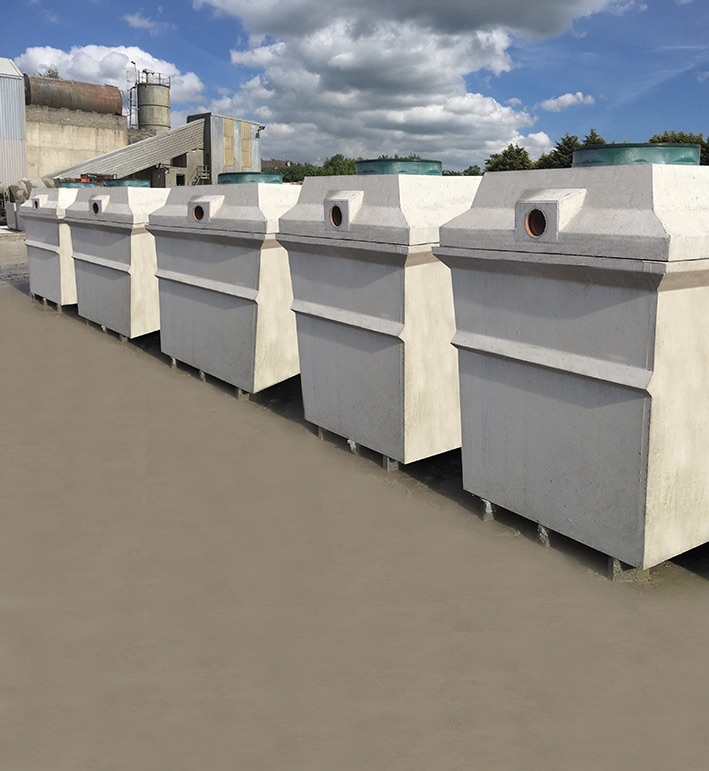 Rainwater Harvesting Tanks Ireland
We manufacture and supply rainwater harvesting tanks throughout Northern Ireland and the Republic of Ireland. Rainwater harvesting is a system that allows you to capture and store the rain that falls on our roofs. Harvested water can be filtered and is mainly used for washing machines, gardening purposes, toilet flushing.
The system we use works as follows.
The water from your roof is collected and stored in our 3400lts precast water tank.
The water is then pumped into the house  by a  pressurized systems. The pressured system eliminates the need for a header tank; however a pressure vessel is required to maintain a constant water pressure throughout the subsequent equipment & pipe network reducing the risk of damage to devices connected to the system.
The water can be used for toilet flushing, washing machines, garden irrigation and car washing.
Rainwater Recycling – Settlement Process
1. The water goes through the leaf filter which traps any large particles; i.e, leaves, moss, etc
2. It then goes through a calmed inlet. This allows smaller particles lodged on the bottom of the tank, and prevents an inrush of water from disturbing these solids
3. Submersible pump then pumps rainwater into the house using a floating suction pipe meaning that the freshest of water is always taken from the top of the tank
4. The water then flows through coarse, fine and UV filters within the house
5. Tank-made from precast concrete – size depends on roof size, rainfall, rainwater application and house occupancy
Turley's Rainwater Harvesting Systems
We manufacture durable concrete water harvesting tanks.  With a huge 3400 liter capacity and strong 45 newton concrete construction, our tanks are ideal for most domestic and commercial rainwater harvesting installations.

Benefits of Rainwater Harvesting
Rainwater is free! Reduce metered water charge
Environmentally friendly
Softer water
Chlorine free
Technical Specifications
3400 Litre Capacity
45 Newton Concrete
5 Tonnes in Weigh
Length  3500 mm
Width   1300 mm
Height  1700mm
Inlet 1310 from bottom of tank (Invert Level)
Concrete Tank Accessories
As well as supplying rainwater harvesting tanks, septic tanks and water treatment tanks, Turley Bros also supply a range of accessories including risers, lids and percolation boxes.
Please contact us with your requirements for new build, renovation or extension. We are more than happy to assist you with any technical queries and quote you for any of our products and services.